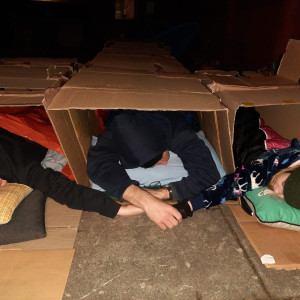 Annual Sleep Out to End Homelessness returns to Edinburgh City Chambers in March
On Friday March 11, individuals and communities across Scotland will leave the comfort of their beds to take part in the Big Bethany Sleep Out.
Their aim is to raise awareness and vital funds to support homeless people in Scotland.
For the past 19 years, The Big Bethany Sleep Out has taken place in Edinburgh, Glasgow and other locations across Scotland, becoming a local fundraising venue. Known for engaging communities across the country to take a collective stand against homelessness, the event has raised over £400,000 to date.
Despite the pandemic, last year's iteration Sleep Out At Home was a big hit. Fundraisers of all ages swapped their warm beds for sleeping in gardens, tents and cardboard forts at home, connecting via Facebook Live to connect with fellow attendees. The event raised over £25,000, with 100% of proceeds going to Bethany's rescue work.
This year, The Big Bethany Sleep Out is back in person – outdoors at Edinburgh City Chambers, with the option to participate virtually (from home) still available. The event will begin at 9 p.m. with a presentation on preparing for the night, followed by live music and other activities, before attendees transition to Sleep Out under the stars. Hot drinks will be available throughout the cold night and, thanks to charity partner, Rapid Relief Team UK, a cooked breakfast will be served in the morning.
Since 1983, Bethany Christian Trust has worked to end homelessness in Scotland. Through services such as outreach, housing, support, advocacy and community development, the charity supports nearly 7,000 people each year across Scotland.
Cameron Black, Director of Crisis Response at the Bethany Christian Trust, said: "The Big Bethany Sleep Out is an incredible event. It's been so much fun for everyone involved year after year. We're really excited to have the event back in town halls, with people also joining from home. The thing is, it's not just fun, it's vital fundraising and awareness for people who have no choice but to sleep outside. Thank you very much to everyone who gives up their bed for this purpose, maybe this year you could join us? »
Former Bethany Sleep Out contestant Bridget Blackmore added: "Each time I've been amazed at the amount of money I've raised and the sponsors who have thanked me for doing it to enable them to give, without having to leave the comfort of their own beds! To anyone considering signing up, I'd say do it. An uncomfortable night is nothing compared to the great things you'll allow Bethany to do with the money you will collect.