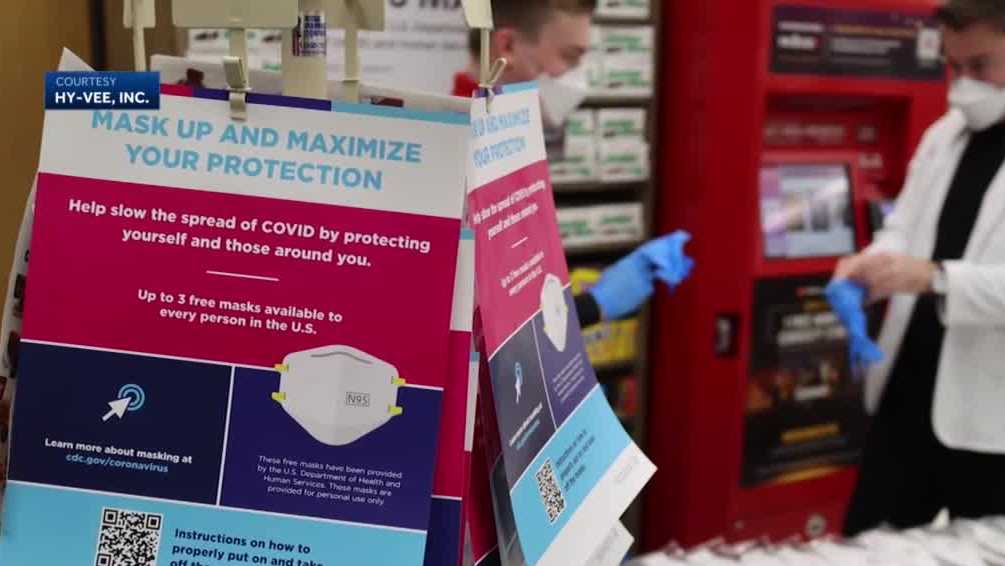 California Chambers of Commerce, Counties and Nonprofits Get N95, KN95 Masks Through Cal OES
Californians will soon have better access to N95 and KN95 masks — the personal protective equipment that health experts say is an important tool in controlling the spread of COVID-19. The Governor's Office of Emergency Services confirmed to KCRA 3 that it provides supplies of N95 and KN95, upon request, to statewide chambers of commerce, non-profit organizations, trade associations and church groups in addition to schools, counties and medical institutions. Along with a recent nationwide effort to equip Americans with N95 masks, Cal OES Public Information Officer Alicia de la Garza explained how Cal OES is working to provide entities in need with the personal protective equipment needed. they need, saying in a statement, "We have been coordinating with these groups since the start of the pandemic and this latest distribution of PPE is just part of Cal OES' ongoing effort to ensure there is a ready supply of free, practical and safe PPE. Once these organizations receive the PPE, it is at their discretion how it is distributed, whether to local businesses or the public within their jurisdiction. KCRA 3 also reached out to Northern California Chambers of Commerce. The Greater Stockton Chamber of Commerce has confirmed that they will be working through Cal OES to secure some of the high quality masks. Tim Quinn, the acting CEO of the Stockton Chamber of Commerce, said as of the end of last week he had received 21,600 KN95s in boxes of 20, 20,000 blue 3-ply disposable face masks in boxes of 50 and 240 bottles of hand sanitizer. Trish Christensen, president and CEO of the Modesto Chamber of Commerce, said the chamber had just placed its own order. Sacramento Metro Chamber said in a statement to KCRA 3: "While the Metro Chamber has previously participated in the distribution of PPE and supports efforts to keep our businesses and our community safe, we do not have the intention to participate in this distribution of N95 masks. residents and businesses on Wednesday afternoon. City spokeswoman Maria Chacon said 550 household kits will contain 10 KN95 masks each and 350 commercial kits will contain 30 KN95 masks. All were counted thanks to registrations of individuals and companies. Other chambers across the state that distributed personal protective equipment would be the Templeton and Paso Robles Chambers and the Sonoma Valley Chamber of Commerce. Cal OES also explained how its efforts to provide Californians with necessary emergency and protective equipment are continuing. Public health departments have access to an ordering system that the state uses to request resources of any kind. It's not just for the pandemic, but during wildfires and other disasters, resources may be requested," de la Garza said. "We have been in contact with local county emergency services offices who are aware of the system if their county needs resources." KCRA 3 previously reported how Cal OES has distributed more than 23 million high-quality masks to education offices statewide since schools reopened after the winter break. Overall, the state has shipped more than 1.3 billion pieces of personal protective equipment to local jurisdictions during the pandemic, more than any other place in the world except the federal government, according to Cal OES. PGRpdiBjbGFzcz0ndGFibGVhdVBsYWNlaG9sZGVyJyBpZD0ndml6MTY0MzIxNTQ5NDA0Micgc3R5bGU9J3Bvc2l0aW9uOiByZWxhdGl2ZSc PG9iamVjdCBjbGFzcz0ndGFibGVhdVZpeicgIHN0eWxlPSdkaXNwbGF5Om5vbmU7Jz48cGFyYW0gbmFtZT0naG9zdF91cmwnIHZhbHVlPSdodHRwcyUzQSUyRiUyRnB1YmxpYy50YWJsZWF1LmNvbSUyRicgLz4gPHBhcmFtIG5hbWU9J2VtYmVkX2NvZGVfdmVyc2lvbicgdmFsdWU9JzMnIC8 + + + IDxwYXJhbSBuYW1lPSdzaXRlX3Jvb3QnIHZhbHVlPScnIC8 PHBhcmFtIG5hbWU9J25hbWUnIHZhbHVlPSdDT1ZJRC0xOUxvZ2lzdGljc0Rhc2hib2FyZCYjNDc7TG9naXN0aWNzJyAvPjxwYXJhbSBuYW1lPSd0YWJzJyB2YWx1ZT0nbm8nIC8 PHBhcmFtIG5hbWU9J3Rvb2xiYXInIHZhbHVlPSd5ZXMnIC8 + + + PHBhcmFtIG5hbWU9J2FuaW1hdGVfdHJhbnNpdGlvbicgdmFsdWU9J3llcycgLz48cGFyYW0gbmFtZT0nZGlzcGxheV9zdGF0aWNfaW1hZ2UnIHZhbHVlPSd5ZXMnIC8 PHBhcmFtIG5hbWU9J2Rpc3BsYXlfc3Bpbm5lcicgdmFsdWU9J3llcycgLz48cGFyYW0gbmFtZT0nZGlzcGxheV9vdmVybGF5JyB2YWx1ZT0neWVzJyAvPjxwYXJhbSBuYW1lPSdkaXNwbGF5X2NvdW50JyB2YWx1ZT0neWVzJyAvPjwvb2JqZWN0PjwvZGl2PiAgICAgICAgICAgICAgICA8c2NyaXB0IHR5cGU9J3RleHQvamF2YXNjcmlwdCc + ICAgICAgICAgICAgICAgICAgICB2YXIgZGl2RWxlbW VudCA9IGRvY3Vt ZW50LmdldEVsZW1lbnRCeUlkKCd2aXoxNjQzMjE1NDk0MDQyJyk7ICAgICAgICAgICAgICAgICAgICB2YXIgdml6RWxlbWVudCA9IGRpdkVsZW1lbnQuZ2V0RWxlbWVudHNCeVRhZ05hbWUoJ29iamVjdCcpWzBdOyAgICAgICAgICAgICAgICAgICAgaWYgKCBkaXZFbGVtZW50Lm9mZnNldFdpZHRoID4gODAwICkgeyB2aXpFbGVtZW50LnN0eWxlLndpZHRoPScxMTAwcHgnO3ZpekVsZW1lbnQuc3R5bGUuaGVpZ2h0PSc3NzdweCc7fSBlbHNlIGlmICggZGl2RWxlbWVudC5vZmZzZXRXaWR0aCA + =
SACRAMENTO, Calif. —
Californians will soon have better access to N95 and KN95 masks — the personal protective equipment that health experts say is an important tool in controlling the spread of COVID-19.
The Governor's Office of Emergency Services confirmed to KCRA 3 that it provides supplies of N95 and KN95, upon request, to statewide chambers of commerce, non-profit organizations, trade associations and to faith groups in addition to schools, counties and medical facilities.
Along with a recent nationwide effort to equip Americans with N95 masks, Cal OES public information officer Alicia de la Garza explained how Cal OES is working to provide entities in need with the equipment. personal protective equipment they need, saying in a statement: "We've been coordinating with these groups since the start of the pandemic and this latest distribution of PPE is just one part of Cal OES' ongoing effort to ensure there is a ready supply of free, convenient and safe PPE Once these organizations receive the PPE, it is at their discretion how it is distributed, whether to local businesses or the relevant public of their jurisdiction.
KCRA 3 also reached out to Northern California Chambers of Commerce.
The Modesto Chamber of Commerce and the Greater Stockton Chamber of Commerce have confirmed that they will be working through Cal OES to source some of the high quality masks.
Tim Quinn, acting CEO of the Stockton Chamber of Commerce, said as of the end of last week he had received 21,600 KN95 in boxes of 20, 20,000 blue 3-ply disposable masks in boxes of 50 and 240 bottles of hand sanitizer.
"We had staff with COVID, so we're still working out the details for distribution to our small business community," he said.
Trish Christensen, president and CEO of the Modesto Chamber of Commerce, said the chamber had just placed its own order.
Sacramento Metro Chamber said in a statement to KCRA 3: "While the Metro Chamber has previously been involved in the distribution of PPE and supports efforts to keep our businesses and our community safe, we do not have the intention to participate in this distribution of N95 masks."
The Rancho Cordova Area Chamber of Commerce, meanwhile, partnered with the City of Rancho Cordova to deliver thousands of Cal OES KN95 masks Wednesday afternoon to residents and businesses.
City spokeswoman Maria Chacon said 550 household kits will contain 10 KN95 masks each and 350 commercial kits will contain 30 KN95 masks. All were counted thanks to registrations of individuals and companies.
This content is imported from Facebook. You may be able to find the same content in another format, or you may be able to find more information, on their website.
Other chambers across the state that have distributed personal protective equipment would include the Templeton and Paso Robles Rooms and the Sonoma Valley Chamber of Commerce.
Cal OES also explained how its efforts to provide Californians with necessary emergency and protective equipment are continuing.
"County public health departments have access to an ordering system that the state uses to request resources of any kind. It's not just for the pandemic, but during wildfires and other disasters, resources may be requested," de la Garza said. "We have been in contact with local county emergency services offices who know the system if their county needs resources."
KCRA 3 previously reported how Cal OES has distributed more than 23 million high-quality masks to education offices across the state since schools reopened after winter break.
Overall, the state shipped more than 1.3 billion pieces of personal protective equipment to local jurisdictions during the pandemic, more than any other place in the world except the federal government, according to Cal OES.