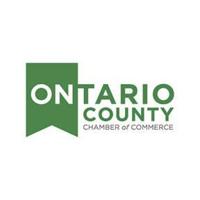 Canandaigua and Victor Chambers merge to form Ontario County Chamber | Business
VICTOR — The Canandaigua and Victor Chambers of Commerce have partnered to become the Ontario County Chamber of Commerce.
The partnership was announced Thursday. It includes a new brand, an expanded service area and improved offerings. It will provide a range of services to thousands of businesses in Ontario and five surrounding counties.
The Canandaigua Chamber has been providing services to businesses, visitors and residents of Ontario and contiguous counties for over a century, but has retained a name that reflects its long-standing, hyper-local roots.
Ethan Fogg was the former President and CEO of the Chamber of Canandaigua and retains those roles now with the new Ontario County Chamber – or "ONChamber".
"Working with Victor Chamber leaders to provide the enhanced services of Canandaigua Chamber to the Victor business community provides us with a rare opportunity to change our name to the Ontario County Chamber of Commerce to more accurately reflect our work," Fogg said. "The Ontario County Chamber brand symbolizes the power of what we can accomplish collectively for the more than 700 member companies in our combined service areas."
The newly branded Ontario County Chamber is committed to ensuring quality benefits, services and programs are available to all area businesses and organizations.
• Welcome visitors to the area using multiple digital and social channels, as well as the visitor center at 113 Main St. in Canandaigua.
• Provide members with opportunities to connect through traditional monthly mixers, the AlfrescoFLX summit for retail and hospitality businesses, The Q (the annual gathering of members), the Neo-Classic Golf Tournament and other events.
• Ensure businesses have access to affordable health insurance and other benefits.
• Provide quality educational programs to assist in workforce development, including Chamber University sessions and supporting the Leadership Ontario program.
• Collaborate with other community groups that advocate for businesses and the region, including the tourism and hospitality industries.
• Organize conversations with our local and state legislators to discuss important issues impacting the region's culture and economy.
Chamber executives Canandaigua and Victor hosted a celebratory event and logo unveiling Thursday at Ravenwood Golf Club.
"The National Bank of Canandaigua has been a member of the local chamber since 1910 because of the pivotal role it plays in positioning our community as an ideal place to start, operate and grow businesses," said Michelle Pedzich, President and first vice-president of the council of the county chamber of Ontario. and Director of Human Resources at Canandaigua National Bank and Trust Co. "We are convinced that this new brand and this new partnership with the Victor Chamber will allow businesses in the region to benefit for generations to come. »