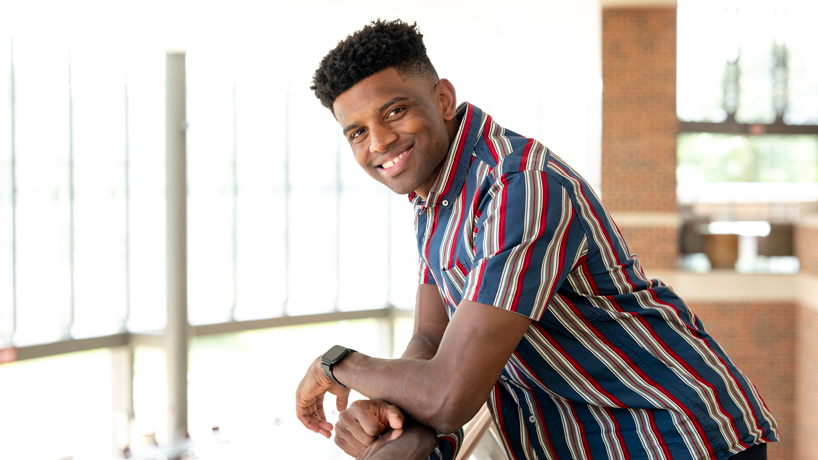 Communications graduate Brandyn Chambers in the spotlight on HGTV's 'Battle on the Beach' – UMSL Daily
Recent University of Missouri – St. Louis grad Brandyn Chambers followed her father, Roosevelt, through the front door of the beachfront home in Surfside Beach, Texas.
Their steps were slow as they looked up to inspect the work that needed to be done.
"Everything is going to have to go," Roosevelt said as Brandyn kicked a rotting window frame.
This is how cameras captured the father-son duo's introduction to the home improvement project they were about to take on as contestants on season 2 of the HGTV show "Battle on the Beach. ", which debuted on June 5.
"It's a lot of work that needs to be done," said Brandyn, who earned her master's degree in communications last month. "But the job can be done, and I think we're the best people for the job, really."
Roosevelt Chambers, owner of Chambers Development LLC, has been in the home improvement and renovation business for 34 years, reimagining properties in St. Louis and St. Charles County throughout that time. Lately, his company has even started demolishing existing houses and replacing them with completely new ones.
"I still remember going to work and watching my dad as a kid," Brandyn Chambers said. "He's more of a director now, but back then he would take me to a house for an hour and he would do a lot of work. It was cool to see him do a lot of work, just renovating and completely flipping houses. and make them look like almost new renovations.
Brandyn, who spent most of his childhood in Weldon Spring, Mo., took a few lessons as a kid, but he focused a lot more on dribbling and shooting the basketball. He ended up being recruited to play in college, first at NCAA Division II Quincy University, then Missouri Western State University before ending his career at NAIA Columbia College. He graduated with a degree in finance in 2016.
It was after Brandyn finished college that he began working alongside his father and began to learn more about the ins and outs of the family business.
"I was able to just solidify myself and understand what's going on," Brandyn said. "I actually learned and retained the information."
Brandyn also brought with him a flair for marketing and social media. He launched Facebook and Instagram accounts under the name "Stunning Renovations" to help spread awareness of their business and show off their work.
These efforts helped them get the attention of Discovery Inc., owner of HGTV. Brandyn said a company representative originally asked if he and his father were interested in appearing on any of the network's shows involving a lighthouse renovation. They refused to take the opportunity, thinking it wouldn't be a good fit, but a recruiting producer contacted them again to discuss "Battle on the Beach".
"She was like, 'You might not even want to do this because I understand the jobs you do are building houses, but that would be a good exposure,'" Brandyn recalled. "She said it would be a bit of work. My dad and I were just like, 'Yeah, we'll try, see what happens.' We went through the process, and ultimately, we are grateful.
The show pits three teams in a competition to renovate and add the most value to three identical beach houses in Surfside Beach, located along the Gulf Coast, about 40 miles southwest of Galveston.
Each team is given an $80,000 budget to redo their property and are assigned a mentor from one of HGTV's other home improvement shows to help guide their design and work. Brandyn and her father worked with Taniya Nayak, who is known for her work hosting shows such as "Restaurant Impossible" and "Build It Forward."
They filmed the second season of "Battle on the Beach" over six weeks beginning in February, and new episodes aired on TV every Sunday at 8 p.m. CT.
Brandyn felt lucky to be working on her graduate internship at a nonprofit basketball academy during the spring semester, having already completed all of her coursework for her master's degree.
His supervisor encouraged him to do the show and sent him the work he needed to do remotely alongside filming in February and March. It was a busy and often stressful six weeks as they tried to meet the show's tight deadlines, but Brandyn was unwilling to trade the experience.
"It was a great opportunity for us to present to the world and present to future generations within our family," he said.
Brandyn has always had an interest in television and mass media, which is one of the reasons he was driven to return to school to pursue his master's degree, enrolling at UMSL in January 2020.
In some ways, it ended up being an opportune time because the onset of the COVID-19 pandemic slowed down so much in Brandyn's daily life and gave her more free time to focus on her studies. He also found time to work as a graduate teaching assistant.
"It was awesome," Brandyn said of the experience. "I've learned so much about communication theories, and I feel like I've improved so much as a writer and storyteller and as a researcher in my communication program."
He had a long list of faculty members who impacted him over the past two and a half years, from Suahn Jang Cho and Alan Heisel to Amber Reinhart and Stephanie Van Stee.
Brandyn had the honor of serving as student marshal, leading his fellow graduates onto the floor of the Mark Twain Athletic Center during the College of Arts and Sciences' second commencement ceremony last month.
"It was a very surreal moment," he said. "I know my parents were proud and I was super proud of myself for being able to do this."
Brandyn hopes to apply the lessons he learned in his master's program to his work with his father as they build relationships with clients and contractors and continue to grow their business.
He loves the creativity that his work allows him to deploy.
Brandyn and her dad are gearing up to start new home projects in Rock Hill and Ladue this summer, and they've also enjoyed seeing each other on TV, even if it sounds a bit surreal.
He thinks people will want to tune in for the rest of the season.
"They have to watch because me and my dad do some pretty cool work," Brandyn said. "They absolutely have to watch this. Win or lose, we're doing great work that they'll be thrilled to see. »
Short URL: https://blogs.umsl.edu/news/?p=94210