Nine city councilors were deprived of their free parking spaces in the city center while all officials and elected officials, with the exception of official Lord Provost cars, were banned from parking in the quadrangle outside the rooms from the city.
The council's finance and resources committee has approved the plans, but the quadrangle will still be available for emergency services, official civic affairs, wedding receptions, essential maintenance vehicles, CCTV vans and " any parking necessary to provide reasonable adjustments within the framework of our accessibility requirements under the Equality Act ".
Council property and facilities management manager Peter Watton urged councilors to comply with the new rules after concerns were raised that a smoking ban in the quadrangle is regularly flouted.
Additional parking spaces previously used by Cllr Claire Bridgman, Cllr Gavin Barrie, Cllr Joan Griffiths, Cllr Jason Rust, Cllr Cammy Day, Cllr Ian Perry, Cllr Lezely Marion Cameron and Cllr Iain Whyte will be used to provide more storage for the bikes .
Finance and Resources Officer Cllr Alasdair Rankin said: "As a council, we are taking a whole series of steps to make better use of Edinburgh's public spaces so that they are more accessible and enjoyable.
"By stopping parking access for city councilors in city chambers, we are demonstrating our personal leadership and commitment to promoting a more sustainable and carbon neutral future for the city."
The proposals were originally tabled by Green Cllr Gavin Corbett who said: "Of the 63 councilors, nine have free parking spaces, for reasons that are difficult to understand. It's a throwback to a bygone era when being a city councilor had its advantages.
"I am pleased that the council has agreed to make the long overdue decision to eliminate free parking for these nine councilors. He gives a good example, on the need to transform the city center from a place of circulation to a place for people.
David Bol is the local democracy reporter covering Edinburgh. The Local Democracy Reporting Service (LDRS) is a public service news agency: funded by the BBC, provided by the local news industry, and used by eligible partners. Local Democracy Reporters covers leading local authorities and other public service organizations.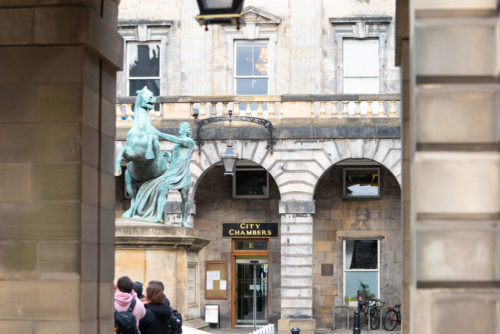 Related