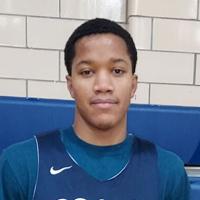 Ewing's Ean Chambers stands out on defense for Notre Dame hoops | Ewing's Watcher
The way Ean Chambers saw it, he had to learn to play defense if he ever wanted to play attack.
"I used to play a lot with my older brother (Ethan) and babysit him; he was a year older than me and much taller and I wouldn't have the ball," Chambers said. "So I had to play defense to take it away from him."
So, the Notre Dame High senior worked hard on his defensive game. He didn't realize it at the time, but his attempts to protect his brother would make him a valuable player for the Irish years later.
"He's the best defensive guard we've got and he's just an easy kid to train," ND coach Rich Roche said. "He will always keep the other team's best goalkeeper. We had games where he was in double figures offensively, other games where he gave the kids defensive crises.
"Council Rock North has a very good guard, Bernie Parent (Philadelphia Flyers legend's grandson). And Ean really gave him a hard time, following him everywhere. So we like him defensively, and we look at the scouting report and see who their best offensive guard is and say, "OK, you got him."
Chambers relishes the responsibility. It's hard to find many children who feel this way; or many adults, for that matter. But the resident of Ewing kisses him.
"It's my favorite part of the game," he said. "Once you start the defense, the offense will probably come. A good defense gives energy, it boosts the whole team. We focus on that at Notre Dame and it's really fun.
When given a mission against someone like Parent, who is tearing up the league in Bucks County (Pennsylvania) by scoring, Ean isn't intimidated.
"I try to think of them as just another player," he said. "Just someone I know I can keep and I know if I do it well he won't get a lot of points."
The 6-foot guard believes the key to being a good defender is staying calm, moving your feet and staying in front of your man. But he admitted that most good defenses are a group effort.
"It's really not a one-person thing," Chambers said. "It's a team thing, and it's good that I can count on my team-mates for help if I'm not around."
Like most of Ewing's children, Chambers started playing at Moody Park in the first grade, shooting with his father and brother. He played CYO ball for St. Ann's and also had an AAU year with the New Jersey Connection.
Due to a talent surplus on Notre Dame, Ean played for the JV team his first two years of high school. Last year was a bit of a rollercoaster for the juniors.
"Coming into the first scrum, he was one of eight guys in our rotation," Roche said. "Then we had school closed for two weeks and we missed two weeks of training and games. When we came back it wasn't the same guy anymore so he asked if he could go to the joint venture and get some rehearsals and keep training with the university.
"Towards the end of the 12 games that we were able to play, he came back and he was a bit more himself and he contributed. This summer he really blossomed.
Chambers said the trip to JV "just made me want to work harder."
Over the summer, he worked hard to develop both his body and a positive mindset. His solid performance in the Morrisville Summer League has continued this season, as evidenced by the praise he is receiving from his teammates. Junior Stesher Mathelier, ND's leading scorer and rebounder, marvels at Chambers' skills and personality.
"He's probably the best defenseman on the CVC, and especially on our team," Mathelier said. "He has a lot of defensive intensity.
"He is also a great mentor for us, a real leader. He's not a yelling guy, but very understanding and gives you little tips here and there. He is an excellent leader during training and is also excellent in communication, but he is never too forceful.
Roche calls Chambers "a lovely guy, he'll do anything for you." He's also a guy who can score points when the opportunities arise. Ean averaged a modest 6.5 points in Notre Dame's 6-2 start, but he had double-digit outings against Lawrence and Moorestown.
"Offensively, I tell him to put all his stuff in the flow of attack and score on the break because he runs well," Roche said. "He had a lot of fast break points because he got ahead of a lot of people on the court. He's a capable three-point shooter, one of those guys you don't want to leave alone. But that's not not a guy who is going to shoot someone. He also became a very good slasher during the break.
The running game is something Chambers enjoys.
"I like to go out during the break and always be the first on the pitch," he said. "And (in a half-court offense) I try to find an open spot and get some open shots."
Mathelier thinks his teammate can sometimes show offensive skills.
"He can shoot a bit," said the Irish center. "And on the pitch he's got a high drive, he's always the first one down when we take a quick break. You just gotta appreciate a guy like that.
No one appreciates Chambers more than Roche.
"He never gets in trouble at school, so it's easy to train him," he said. "He's a good basketball player but that's not the driving force behind everything he does. In my mind, he's probably the most improved player in all this time.
"He has the will to be coached and the will to do the dirty work. He's not afraid to dive on the ground for loose balls. He's only 6 feet tall but he's a rebounder. We have guys coming off the bench who are better attacking players, but with a guy like Ean we have someone who can do a lot of different things well.
One of those things is the ability to be a lockdown defender, which Chambers knows is necessary.
"Oh yeah," he said. "Every team needs it."
And the Irish have one of the best.