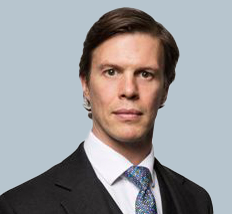 Liam Walker QC | Doughty Street Chambers
"One of the most determined and direct defenders, he is both fearsome and utterly fearless." – Chambers and Partners 2020/21
"Exceptional client management skills and legal knowledge." – Chambers and Partners 2019/20
"A great tactical criminal mind and, being a man of the people, is a brilliant jury lawyer. An absolute star. – Chambers and Partners 2018
"He understands the customers, he receives them and knows what they need. He can bring that into the courtroom, and he delivers. – Chambers and Partners 2018
"He's damn good, it's as simple as that." – Legal 500 2017
Liam is driven by the understanding that every case he is instructed in can have life-changing consequences for those involved. He regularly acts as a senior junior lawyer.
Due to Liam's commitment to his clients, Liam is regularly tasked with representing high profile individuals. He has acted for internationally acclaimed recording artists, media celebrities, actors, world-class professional athletes and other professionals whose livelihoods and reputations depend on the outcome of a case.
Liam is regularly tasked with defending people charged with the most serious offences: murder, attempted murder, terrorism, serious sexual offenses and complex fraud. He is the author of the Westlaw Insight Guide to Manslaughter and, as an expert in sexual offences, is a speaker for Lexis Nexis on serious sexual offences.
Liam provides pre-charge advice to individuals and corporations who are known to be under investigation or threatened with prosecution. He is able to provide multi-jurisdictional advice to those whose professional interests extend beyond the UK and EU.
Regulatory
Liam Walker advises and represents individuals suspected of professional misconduct before their regulatory bodies. He represents licensees before regulatory bodies, including: the General Medical Council (GMC/MPTS), the Nursing and Midwifery Council (NMC), the General Pharmaceutical Council (GPhC) and the General Dental Council (GDC).
Liam has been instructed to appear and give his opinion on matters where serious criminal misconduct has been alleged. He has acted in cases where allegations of dishonesty, sexual impropriety or criminally negligent conduct have arisen.
Investigations and inquiries
Liam has appeared for families and organizations where unlawful killings, negligence or police corruption have been alleged. His background in criminal law is an asset in cases where corruption and/or state complicity are alleged to be present. Similarly, Liam's experience with juries has been particularly beneficial in Section 2 inquests held before a jury.