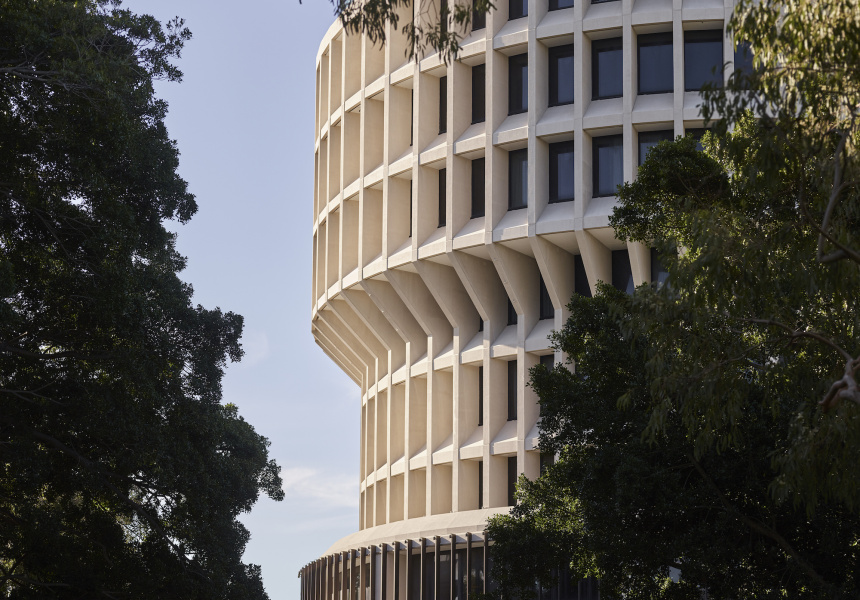 Newcastle's gloriously cylindrical former council chamber now houses an elegant hotel
Since their completion in 1977, Newcastle's former council chambers have been hard to miss – housed in a cylindrical Brutalist building just off the high street, towering above neighboring buildings. Now offices have been replaced with king-size beds, soggy weekday sandwiches with an upscale restaurant, and council workers with hotel guests. These days, the building lives a very different life than it was intended – it's the first five-star hotel in the up-and-coming coastal town, the Crystalbrook Kingsley.
Sustainability-minded Crystalbrook Hotel Group took over the building a few years ago, opening just before Sydney went into lockdown in 2021. As well as stylish rooms, it has a rooftop bar and restaurant, both headed by a new executive chef. , Matt Smith (ex-chef at Banksii in Barangaroo).
Entering the elegant double-height foyer reveals the dramatic curvature of the structure; common areas and bedrooms wrap around a central pillar, which in the foyer is draped in dramatic curtains.
Upstairs, 130 rooms overlook the harbor or Newcastle's leafy Civic Park. They're decorated in grays and whites, with crisp pops of orange, red, and goldenrod in the form of throws, throw pillows, and bright lounges and armchairs. Each room is equipped with a Nespresso machine (with recyclable pods, in keeping with Crystalbrook's sustainable ethos), a rain shower, and a Smart TV with hundreds of free movies. Key cards are made from recycled wood, single-use toiletries and plastic bottles are banned, and recycled paper is made into hangers.
While the rooms are a boon to foreigners, the rooftop bar, Romberg's and the adjacent Roundhouse restaurant are a boon to visitors and locals alike. Both offer visitors vistas from the Steel City to the beaches beyond floor-to-ceiling windows. And the bar and dining room are decorated in light woods and dotted with large pots containing native trees.
Named for the building's architect, Frederick Romberg, Romberg's offers a sophisticated menu of cocktails that incorporate local, local ingredients. A "zero waste" menu sees kitchen scraps such as fruit turned into syrups, syrups and toppings. Likewise, the bar's food menu uses extras from Roundhouse to ensure minimal waste. For example, Smith says the beef tenderloin trimmings on the Roundhouse menu are turned into tartare with duck egg jam at Romberg. You can also find bits and bobs from the evening menus in the breakfast buffet, as well as the downstairs bar and cafe Ms Mary.
"Obviously it's good practice, but when you have that durability [focus] as a group at the forefront of everything we do, [we have to ask] what's the outcome of that, and if it's negative or not green enough or not sustainable enough, we need to find alternatives," Smith said. Large format.
For added accountability, each hotel menu features symbols indicating whether it helps reduce waste, is made from local ingredients or ethical meat, or is "culturally considered" ( i.e. sourced directly from Aboriginal suppliers).
"We make sure we do things that come back to the community," Smith says. "We only want to rely on companies that do the right thing."
Smith's first menu at the Roundhouse — where the views are equal to Romberg's — incorporates European and Asian elements. Jumbo grilled Yamba prawns are drizzled with XO butter and topped with native succulents, while a traditional diplomate cream is revisited with eucalyptus and topped with candied native black olives, strawberries macerated in local gin and a Strawberry sorbet quenelle.
"We keep it pretty simple, without going overboard," Smith says. "No reinventing the wheel, just good simple products, as all the chefs say!"