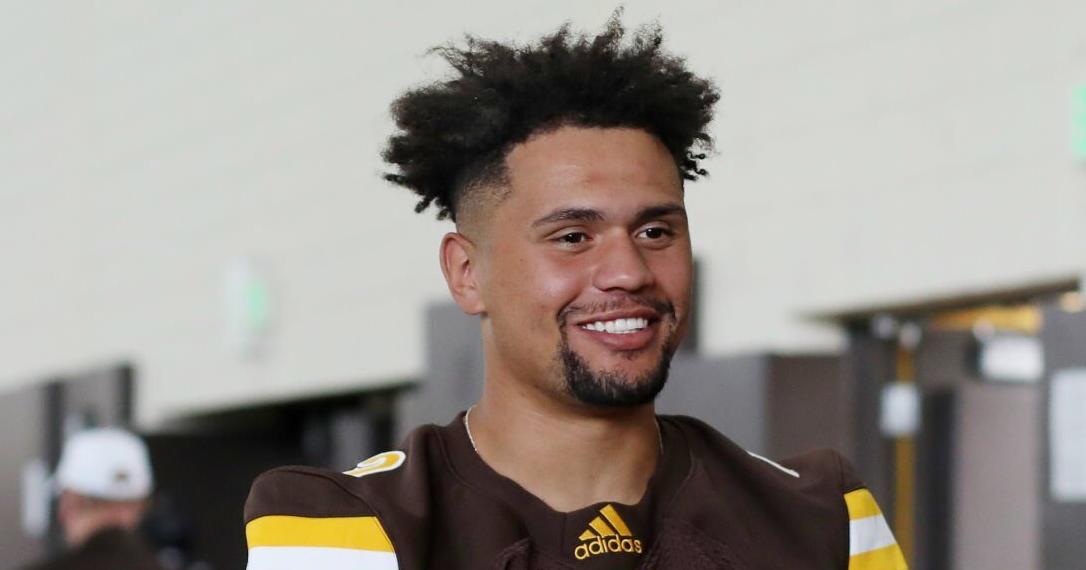 Q&A: Sean Chambers discusses Montana State Engagement and Wyoming Career | Montana State Bobcats
BOZEMAN – Sean Chambers suffered three late-season injuries and retains two years of eligibility, all without wearing a medical red shirt.
The quarterback played a full 2021 season in Wyoming and led the Cowboys to a 6-2 record in 2019, a season cut short by a knee injury. Chambers, who initially pledged to Rutgers, wore his usual red shirt for four games in 2018 after breaking his right fibula in Game 4.
Chambers broke his left fibula in the third game of the postponed Wyoming 2020 pandemic opening scrimmage. The 6-foot-3, 225-pound double-threat QB did not need a medical red shirt because the NCAA had granted athletes an additional season of eligibility that year due to COVID-19.
On Sunday, Chambers announced his commitment to Montana State, a team he helped beat in the 2021 opener with a last-minute touchdown. He played an injury-free season but struggled at Mountain West and lost his starting position after seven games. Chambers entered the transfer portal last month.
Chambers spoke to 406mtsports.com by phone Tuesday from his hometown of Kerman, Calif. He discussed his injuries, the Bobcats, divisional finalists in the soccer championship, and his role for Brent Vigen, MSU head coach and Wyoming offensive coordinator from 2014-2020.
NOTE: This Q&A has been edited for brevity and clarity.
406: First of all, what were the main reasons you chose MSU?
SC: Montana State has a good program, and I think they've taken a really, really big step forward this year to qualify for the national championship. I played well on both sides of the ball, I had a very good run. When we played at Montana State, Wyoming, they laid that out in front of us. They gave us a few fits in defense, and their offense brought him to our defense.
With my relationship with Coach Vigs, it felt like this was the right place for me.
406: How would you describe your relationship with Vigen?
SC: We have a very good relationship. He recruited me out of high school in Wyoming, and I just think we've developed that relationship over the years and made it a great one.
406: How would you describe him as a person and as a coach?
SC: He's a player coach. I think people want to play for him. I know in Wyoming people wanted to play for him and wanted to do well for him. People really love him, and they love what he brings to the table.
406: Did he contact you first to come here, or was it more from you?
SC: It was a bit mutual. He saw me walk into the transfer portal, and then we kind of reached out and talked. Next thing you know, I'm going to Montana State.
406: In your opinion, what are your main goals when you arrive at MSU?
SC: I just want, first of all, to get to know my teammates and develop relationships with these guys and get into the program and shape myself to be a Bobcat.
406: Is being a starter your main goal right now, or is there something else?
SC: The main objective is to go out there, compete and help them in any way possible. That's kind of the reason why I thought Montana State was a good fit for me because I see myself as a competitor and a team guy, and I would love to go out there and really help the team. in every way possible. That's kind of how I see myself going in there.
So I wouldn't say I'm going to expect to be the starter right away because it's just not reasonable. I know they have good quarterbacks and the quarterback room is pretty tight, and I just want to go out there and contribute in any way I can.
406: What do you think of Tommy Mellott?
SC: I think he's a stallion. He lit up the playoffs a bit. He can run the ball, he can throw the ball. I think he's a stallion. I think he's a very good football player. I know when I was young I was kind of like that, so I feel like I can be a help and be a help.
406: You'll easily be the most veteran quarterback in this room unless he gets another transfer, so I imagine that's what Vigen and the other coaches expected from you, that veteran presence ?
SC: Yes, definitely. I've played soccer games, been through the ups and downs of college football and sort of know what to expect so I guess I can provide some veteran help with this. room.
406: Vigen and (offensive coordinator Taylor) Housewright discussed how the quarterback's run is such an important part of their offense, so I imagine you and Vigen both saw this as a good choice, being a dual threat mobile quarterback?
SC: Yes, definitely. I love what Coach Housewright does with the offense. Like I said, they came to Laramie this fall, it was kind of on display for me, just watching them play and stuff like that, so I love what they do. Watching the playoffs and watching these guys do a race, it was really obvious what they wanted to do, and I think I can help with that.
406: I can guess the reasons you entered the portal, but can you say in your own words why you chose to leave Wyoming?
SC: I spent four seasons in Wyoming. Things were going well and things were bad. I had three injuries that ended the season there, and I just felt like I needed a new home, a new environment, a fresh start to end my career. university.
406: The loss of your starting job, I imagine, probably played a role?
SC: He had a certain role, but not entirely.
406: Were any of these three injuries worse than the others?
SC: I would say the last one was the hardest to get through. Physically, I think they're all pretty much the same. You hurt him, it was painful and you need to go to rehab. It sucks. But I would say the last one, mentally, was the hardest. Coming out of the canceled season, then coming back into our season, then breaking my ankle, it broke my will a little bit and kind of kicked me back down.
406: I saw this picture of you on the cart in tears. It breaks my heart watching him. Can you explain to me what exactly went through your mind at that time?
SC: I'm just asking, "Why? " I suppose. I'm just asking, "Why does this keep happening?" What is going on? What can I do to make it stop? "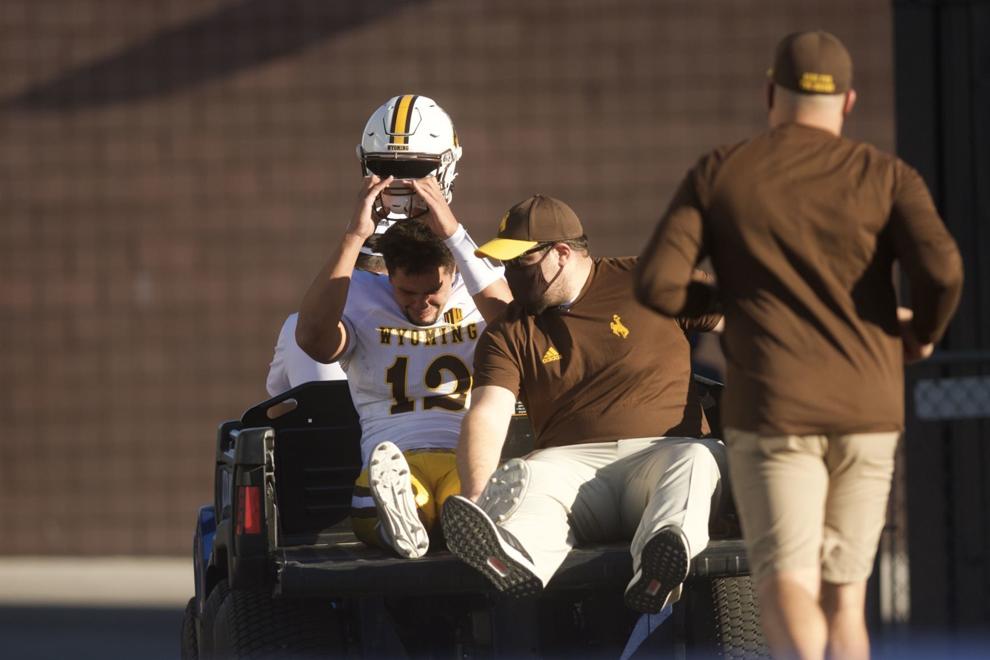 406: I can't imagine the feeling of going through all of this, of breaking both fibulae. Have you felt a snake bite?
SC: Yeah, definitely Snakebit. I returned to campus on January 4, 2020. I came back to campus early, in rehab, because I knew I wanted to play. I knew I wanted to get healthy. Then for the same thing to happen again, this same process, it really hurts. It really broke my will.
406: I've seen the stories of how you thought about giving up football. Just to hear it in your own words again, what made you stick with the sport after going through all of this?
SC: Being around a team, being with teammates, that helped a lot. I knew I loved football, and I knew I was not done with football. I knew I had more to give, and that's kind of what got me through it. I made a commitment to play my football years and wanted to end that commitment, anywhere.
406: What did Vigen tell you during those moments of doubt?
SC: He just told me to keep going, put my head down and keep working. He always encouraged me to stay strong and stay tough and stay me.
406: Was this post similar after the first two injuries?
SC: Yes, it certainly was. I would say he and his wife Mrs (Molly) Vigen were a big help with these injuries, whether it was picking me up after surgeries or dropping me off for surgeries or just watching me . They have been fantastic and such a great help.
406: Losing the starting position and I'm sure not playing up to your standards (in 2021) was tough, but not hurting yourself, was that bittersweet? Was that just disappointing or was there some hope, like "Hey, I can go through an injury-free season"?
SC: It was bittersweet for sure. I would have loved to play on the pitch without suffering a late season injury, but at this point in my career it's a win for me. I love that I was able to get away from the season and still be on my feet. So that makes me more happy than anything.
406: How much do you think these injuries affected your game, if at all?
SC: I don't think it affects him. Once you have a lot of injuries like that you just have to stay on it more often, you have to stay in the training room more often.
406: What do you think of your game? How do you feel about your abilities when you first arrived in Wyoming?
SC: My game is a little different. I think that's a little wiser of me. I know I'm not an 18 year old kid running around and can take all those punches. I know I'm not that kind of kid and I can't be that kind of kid. So I think I had to evolve my game a bit and become a better passer and become a smarter runner, a more efficient runner.