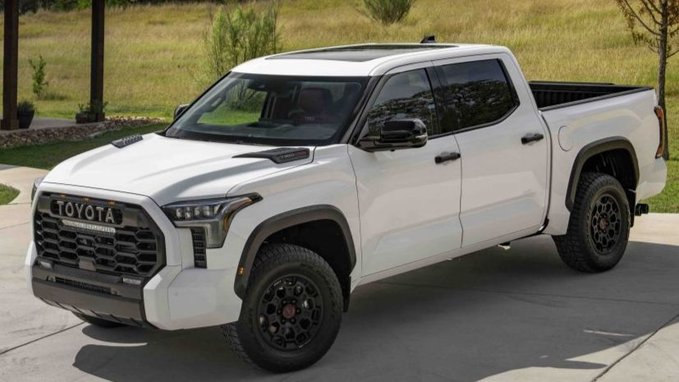 The 2022 Toyota Tundra TRD Pro has a financing agreement
Toyota's top-performing truck already has a financial incentive, according to a newsletter sent to dealers. Through May 2, the 2022 Toyota Tundra TRD Pro is offering a 2.99% APR finance deal for up to 72 months, a surprisingly good offer for a vehicle line that has traditionally been excluded from factory incentives.
Starting April 5, all trims of the 2022 Tundra Hybrid are now eligible for 2.99% financing for 72 months. This is the same offer you'll find on the regular Tundra and extends to the TRD Pro Hybrid only. For reference, TRD Pros have almost always been excluded from Toyota's rebate offers and financial incentives.
To put that into perspective, other high-performance trucks like the 2022 Ford F-150 Raptor and RAM 1500 TRX aren't eligible for most incentives. In both of these cases, the best deal you can get may be a standard rate, which is a non-promotional financial incentive typically available through a brand's captive lender.
So, is 72 months financing on a Tundra TRD Pro a good idea? Given market conditions, this can be a bargain. A closer look reveals that Toyota's 60-month rate is 2.49%. On a $70,000 truck, we estimate the 6-year option would cost $2,000 more overall, but the payment is $179 cheaper per month.
Unfortunately, getting your hands on a Tundra TRD Pro can be tricky. A nationwide inventory search today found no TRD trucks in stock, and one of the largest Toyota dealerships told us it had stopped taking orders and wasn't even taking any reservations. Therefore, being able to take advantage of this incentive can be difficult.
The inability to find a Tundra TRD Pro seems consistent with what we learned last year about projected expectations of up to 1.5 years. While your results will undoubtedly vary depending on how many trucks Toyota decides to allocate to your area, you may have to wait or possibly consider a more accessible Tundra configuration.
Explore Tundra Hybrid Pricing and Offers
Pictured: Screenshot from Toyota.com